Delivering a great customer experience starts with having people who love what they do and the organization they work for. When an employee enjoys working for an organization and feels supported by it, their performance and attitude are improved, benefiting everyone. That is why Collaborative Solutions has, from our beginning, focused on creating a fantastic employee experience.

But what makes Collaborative an award-winning place to work?
Why Collaborative is a Great Place to Work
Here are a few reasons why Collaborative Solutions is such a great place to work.

A strong corporate culture – Culture is a fundamental part of being a Collabie. At Collaborative, we value our people, believe that we work best when working together to achieve goals, are continuous learners, believe in a strong work/life balance, and act with integrity.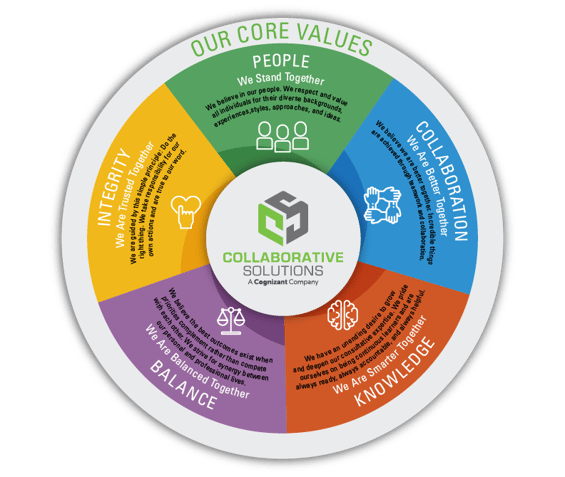 "The wellbeing of our employees is one of our top priorities, because we could not be successful without the expertise and work ethic that they bring to our customers," says Bob Maller, President and Chief Culture Officer. "We embrace our employees as whole people, and I'm thrilled that we continuously grow better at doing this year after year."
A commitment to diversity and inclusion - For Collaborative, it is important that every Collabie have a great experience is, no matter their gender, ethnicity, sexual orientation, age, marital status, or religion.
Here are some of the steps Collaborative has taken to support our diversity and inclusion efforts:
Established a D&I Council made up of senior leaders and passionate

Collabies

to influence our D&I strategy.

Established Employee Resource Groups (ERGs) to enhance feelings of connectedness and provide opportunities for

Collabies

to seek and offer support to each other. The following ERGs have been established, and more are expected to form in the future:
Collabies

Care

– Mental Health resources for

Collabies

Hue

-

Collabies

of Color

HYPE

- Young Professionals

VALOR

- Collaborative's Veterans, Active Military, and Military Families

SPECTRUM

- Collaborative's LGBTQ+ Community

Women Together

- Women of Collaborative

Working Parents Network

- Collaborative's Parents & Parents-to-Be
We continue to d

eliver an array of D&I events throughout the year, including professional development lunch & learns, global Allyship roundtables, happy hours/networking events, and community service opportunities

.

We h

ost Collabie Convos on D&I topics allowing employees to learn and share openly

.

Collaborative a

ctively solicit

s

feedback from ERG participants to inform strategic goals and initiatives

company-wide

.
"What's wonderful about Collaborative is that we have always focused on pay equity and gender parity," said Lynn Hurley, Senior Vice President of Consulting Services. "It's something that has had leadership's attention from the very beginning."
Open lines of communication – At Collaborative, we know that effective, transparent communication is vital to fostering an open and supportive workplace. Our approach to communication is simple – keep people in the know. To achieve this, Collaborative does a number of things:
We

hold quarterly Town Hall style meetings to update

Collabies

on what is going on across the different pillars of within the organization.

Our Executive Leadership Team

utilize

s

Vlogs to ensure that when important organization updates need to get pushed out, we don't need to wait for the next meeting, or rely solely on email to get the word out.

W

e host regular "

Collabie

Convos", which enable

Collabies

from across the business to engage in small, intimate conversations with members of Leadership. These conversations often spur ideation

and

allow employees to share their experiences and feedback in a safe, supportive environment

.
On a monthly basis, we host 'Manager Development Calls' aimed at supporting and growing this very important group of Collabies.
"Keeping lines of communication open and creating an environment where every Collabie feels comfortable sharing their thoughts is an integral part of the Collaborative experience," says Bonnie Dowler, Collaborative's Chief People Officer. "As we continue to grow, we look for new ways to improve communication across the board and ensure every Collabie's voice is heard."
An Award-Winning Place to Work
Saying that Collaborative is a great place to work is one thing, but showing it is another. Here are some of our most recent workplace awards, which demonstrate the results of our continued focus on delivering an amazing employee experience:
Collaborative Solutions

ranked #1 on

the "

2020 Best Small & Medium Workplaces

™" list by Great Place to Work® and Fortune. This is the fifth consecutive year that Collaborative has been on the list.
As you may have noticed, it isn't the first time that we have received a number of these recognitions. Collaborative has been recognized by various organizations as a great place to work for years, a fact that we are quite proud of.
By making a great employee experience such an integral part of our culture, Collaborative has been able to build one of the best teams of Workday consultants in the business. Collaborative invests in its people, allowing it to both attract great Workday talent and develop that talent internally, helping its employees to grow their careers. If you are interested in joining our team, check out our careers page.