Dear Collabie: We are moving from PeopleSoft 9.1 to Workday. We understand we have to re-define how we manage transactions in our system. What are your recommendations to help us streamline our business processes and maximize the adoption and effectiveness of Workdays Business Process tool?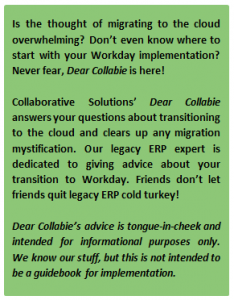 – Perplexed about Process, Washington, DC
Dear "Perplexed":
A Workday implementation is the perfect time to re-define your business processes. It can provide the platform to transform how your organization leverages technology to support your employees. This isn't my first time at the rodeo, and having worked on various legacy ERP platforms and guided clients through process transformation, I can tell you that the clarity, effectiveness, and definitions that Workday provides with its business process tools are unmatched in the industry.
But Workday can't do it all for you; you need buy-in and cooperation from your organization. Use the following tips to get the most out of this opportunity to transform your tired processes.
DEVELOPING PROCESSES
Many clients have "processes" for various transactions such as Hiring, Pay Changes, etc., but most of those "processes" involve walking paper (human automation) from one office to the next. Sound familiar? Or how about "steps" that most employees do not know exist due to inconsistent training? Most of these "steps" and "processes" adapt over time, but organizations can't develop consistency because they rely on personal adoption of processes by individual business units (for example, one colleague asking if another did a particular step when he hired a new employee). This practice is unstandardized, non-reportable, inflexible, and generally inefficient.
As part of all of our Workday deployments, I encourage my clients to take the opportunity to standardize and get back to basics regarding their Business Processes. Clients should review and document their processes in advance, without the context of the target system at first, in order to take an honest, internal review of how they should do business. For example:
If I were to hire an employee, what are the key activities I need to do?
What are the key parties (not individuals) I need approval from?
Or who are the key parties that need to be notified?
Do we need Senior VP Approval?
What tasks should be included in Onboarding?
This exercise without the concept of the "system" allows organizations to minimize perceived constraints and build a process that truly fits their organizational needs.
MAXIMIZING ADOPTION
Think change.
Think people.
Think processes.
Change Management is a key part of any Workday deployment and encourages long-term adoption and overall project success. The success of new business processes is influenced by the type of change, employee impact, and benefits of the process. Start by getting the right people involved in the right activities. Identify a team of project champions that can not only assist in the process design, but also in the socialization of the new benefits. I have found that messaging from a peer champion network as opposed to top-down leadership communication has a more positive effect on client workforces.
Work with your consulting partner to identify various methods to get the end users involved. I have found that providing "sneak peeks" throughout the project keeps people excited and interested. Activities might include process review sessions, during which particularly demonstrable and helpful processes are demonstrated to the end users (such as viewing pay slips, requesting vacation, etc.). The demonstration of these key activities helps maintain a level of excitement around the deployment. By practicing Change Management, utilizing a champion network, and encouraging clear leadership communication, clients can help build understanding and continual acceptance throughout the duration of the project.
MITIGATING RESISTANCE
"If you build it they will come," right? Unfortunately, not all employees are accepting of change, which can be one of the most difficult aspects of the deployment process, because it's often hard to identify where resistance is coming from within the organization. It's important to defend your implementation from any potential resistance using multiple methods. Using a multifaceted approach helps ensure that results from the implementation reflect the defined business outcomes and original vision set forth during the planning phases.
It's important to continue working with employees to ease the transition over time. For example, if there are key activities that don't occur frequently in the system, such as Merit Processing, Performance Reviews, and Benefits Open Enrollment, you might want to offer "refresher" training in the weeks preceding the activity to highlight the benefits and provide general instructions.
Another way to help ensure the success of your implementation is to conduct end user evaluations after a period of time to accept feedback and to demonstrate your organization's focus on utilizing the newly delivered system. If you are rolling out an entirely new Transfer process for example, or you are moving away from Personnel Action Forms to an automated process, you may want to evaluate and measure usage metrics to help facilitate the transformation to the new processes.
There are many challenges and many benefits achieved during a Workday implementation. Streamlining your organization's business processes will provide demonstrable benefits over time, but can require a lot of patience and change management strategies up front. Remember to focus on a multi-faceted change management program to help ensure user adoption and maximize your investment in Workday!