Dear Collabie:
We are considering Workday as a new solution for managing HCM and Payroll.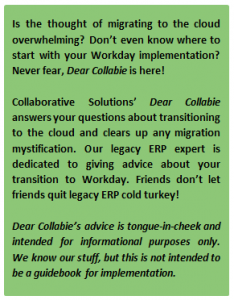 We're currently using PeopleSoft. Our leadership team is somewhat particular with their software functional needs, and because of this we've always liked the ability to customize our software solutions. Can you share some insight into why Workday feels so strongly about "configuration" for its clients? Chronic Customizer from Minneapolis, MN

Dear Chronic Customizer:
Has your organization been keeping up with all the upgrades and non-critical patches for its highly customized PeopleSoft system? If you are like many of our customers, the answer is no. Why not?
High cost
High impact
High maintenance
If you do a search for the word "customization" in the Workday Community, you won't find a single reference. It's a bit ironic that in a high-tech marketplace, where everyone wants what they want, that there is a company like Workday, who is rejecting customization and valiantly promoting configuration. Upon first glance, this may not seem like such a popular approach; however, it is this approach along with their speeding pace of innovation that has helped Workday become one of the leading providers of enterprise cloud-based applications for HCM and Financials.
So why is Workday such a big proponent of configuration? At a high level, the simpler and less customized the implementation, the lower the costs and the easier the migration path will be when new versions of the underlying software are released.
The Cost of Customization
The "cost" not only refers to a company's financial expenses, but also the time, labor, and necessary expertise needed to revise code and restructure databases to accommodate the new upgrades or patches. Ask yourself, "What will happen when the individual who wrote the original code leaves the company?" When you need a backup resource with the right type of experience, what will you do? Don't forget the QA testing, DA review, and UAT that must be conducted as well. With Workday, configuration removes almost all of the excess cost required by a customized environment.
The Impact of Customization
In addition to the overall cost of customization, assessing the impact to your outbound integrations and 3rd party vendors can result in headaches galore – and don't forget you'll need to validate the code on your outbound integrations as well. It's highly likely that any customizations will require code updates and testing to ensure that there won't be impacts to 3rd parties. With Workday, configuration is built into outbound integrations, resulting in virtually no downstream impact.
The Maintenance Factor of Customization
Consider the ability for a customized application to "keep up with" a company during times of change, growth and optimization. In such a fast-paced technological market, software agility is key. It's nearly impossible for a customized application to keep up with the aggressive growth and optimization of the organization without draining the company of resources and money. Workday's emphasis on configuration affords you agility and the ability for your software to keep up with the growth and change of your business.
Configuration in Practice
Workday is grounded in metadata-based configurability which is built into the core application. A perfect example is seen in the Business Process Framework, where customers are able to use a standard Workday task to make changes to the delivered business process definitions. Configuration allows organizations the flexibility to tailor their business process to their unique needs. For example, process definitions can be added or removed, and conditions around the steps can be defined. In addition, business process steps can be assigned to a wide range of roles (e.g., manager, benefits partner, manager's manager, matrix manager, etc.), and the actual person filling the role is resolved when the process is executed. As seen in the Workday 19 update: customers can now create unique custom fields for multiple common objects that will meet specific business needs, and they will carry forward from update to update and do not require ongoing maintenance.
Ultimately, configuration is a better fit in today's business environment. Today's software is more flexible, accommodating, and able to configure to the technical needs of the business better than ever before.
Have a migration-to-Workday question for Dear Collabie? Submit your request.