While we love being needed by our customers, we love it even more when eventually...we are not! For Collaborative, what this means is that we go above and beyond to prepare our customers to support their own Workday applications. We provide support through an ongoing process that starts as soon as our partnership begins.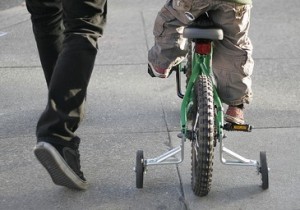 Think of us as the training wheels: we'll guide you through setting up your system and completing Delivery and Quality Assurance Reviews. Below are a few ways we'll be by your side during an implementation to prepare you to ride on your own two wheels!
Configuration Playback Sessions
After we complete a full discovery and design, we will configure your system based on the specific requirements that will meet your business needs. During these sessions, we will walk you through your configuration so that you see exactly how design will translate to real life. You'll see just how Workday will work for you on a day-to-day basis. These playback sessions not only give you an opportunity to be sure Workday is configured to your exact needs, it also gives you an opportunity to begin to see how changes to configurations are made. The consulting team will show you, step-by-step, how they update configurations so that you will begin to feel comfortable making these changes yourself.
Participation in Delivery Assurance (DA) and Quality Assurance (QA) Reviews
Workday provides guidance during your implementation in the form of DA Reviews and CS supplements these with our own QA reviews. These reviews will be scheduled at various stages of the project, beginning after design. We will loop you into each of these reviews to discuss with you the results and to decide, as a team, whether the results require any system changes. We'll work with you to make these system changes; sometimes showing you how to do them, other times having you perform changes with our guidance to get you comfortable working in the Workday system.
During these reviews we utilize delivered audit reports to find any possible issues with configuration. We will share these audit reports with you and show you how to run them and interpret their results. This allows you to understand why things are set up the way they are and how to make changes when necessary.
By this point in the learning curve, you're about ready to try it out for yourself, so this is where we give you a push and let you peddle by yourself for a few feet! But we're right behind you in case you get wobbly.
System Testing
System Testing is a time frame full of opportunities to prepare you to support your Workday system after go-live. In preparation for system testing, we'll provide you with a Test Scenario Template that is a thorough starting point for what needs to be tested in the Workday application. We'll help you explore these scenarios to eliminate those that don't apply to you, and to enhance those that are of particular concern to your business. This gives you the opportunity to really dig into your particular configurations. During system testing, you'll run business processes from top to bottom, getting you comfortable with how to manage Workday. As we find issues, we'll work with you to make changes to your system so that when you go live, you are comfortable making changes on your own.
User Acceptance Testing
The process of User Acceptance Testing is much like System Testing but with a larger audience. We'll use this opportunity to loop in more people who will touch Workday after go-live. This time is valuable for getting users comfortable with the application.
Ad hoc Knowledge Transfer Sessions
We will conduct ad-hoc knowledge transfer sessions where we see the need. These sessions focus on anything from how to create and run an EIB, to understanding and tweaking security, to making business process changes.
And once you're ready, we take the training wheels off and watch you ride away! But with our various Update Management and Optimization services, we're never far away. Because customer success is as important to Collaborative as it is to Workday, we also provide ongoing support through virtual user groups, webinars, and of course, our blog posts.