Today's mobile workforce needs the ability to report time on-the-go (I know I do!). Many time tracking solutions provide this with a "simple" redesign of their applications for a mobile interface.This is fine if you want to do a lot of scrolling and resizing. On the flip side, Workday optimizes its applications to better leverage mobile technology and provide an enhanced user experience. This is exemplified in Workday's Mobile Time Clock introduced in Workday 18.
Like its iPad appl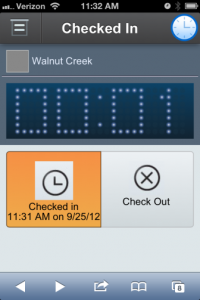 ication, Workday's Time Clock for Mobile Web is streamlined for an intuitive user experience. Upon accessing the time tracking interface, you are greeted with two large "Check In" and "Check Out" buttons. By pressing the first, you check-in using an applicable time type, project task, or time off type. Relevant work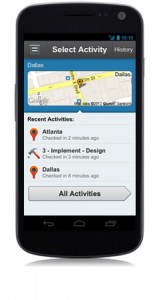 locations, such as client sites and office locations, can be configured to allow users to check-in to specific locations via geo-tagging. Once checked-in for work, a large ticker (think: basketball shot clock) displays across the top tracking the time worked since clocking in. Workers can then press the second button to check out for a meal or break, or clock out for the day.
All clock activities can be viewed right from a your phone. Upon check in, information about when, where, and for what activity will be listed, along with a Google maps display of any location check-ins. Since this information is updated in real-time, you have access to the same time tracking intelligence whether you access it through your mobile device or your desktop.
Mobile vs. Browser for Time Tracking 411:
Check-in/Check-Out. The mobile interface allows for toggling between check in/out times, whereas the browser has static buttons.
Check Out. The browser follows the out reasons designated on the time tracking template. On mobile, all out reasons are allowed (meal, break, out) regardless of the template configuration.
Other Clock Event Tasks. The mobile allows for an employee to view their own clock history. On the browser, clock events can be accessed for other workers depending on security. Additionally, the functionality for adding, editing, and deleting Clock Events is currently accessible through the browser.
Transfers. The browser supports check-in while already checked in (to transfer to a different time entry code). To do this with mobile, check out of one time code and check back in with another.
Time Blocks & Calendar. This interface is currently supported from the browser.
The W19 update (rolling out in this month) is targeted to provide full time tracking functionality on the mobile interface for iOS (it will tentatively be available on mHTML for other devices in W20). This will support time entry and submission of elapsed, units, and in/out time, including reporting time against projects or requested time off. Users can enter time for multiple jobs, tag time blocks with any configured worktags, view holiday and time period indicators, and time totals. With robust updates three times a year, there is no doubt these capabilities will continue to grow and expand in the very near future.
Images from Workday.com (http://www.workday.com/why_workday/mobile.php)