Are You Happy to See Me, or Is That Just Your Customer Satisfaction Showing?
675 Workday customers. 2/3rds live on Workday. 97% customer satisfaction.
Workday's stats are pretty incredible, right? This was just one of many interesting nuggets shared at Workday Altitude. Held in Las Vegas last week, Workday Altitude offered the opportunity for fifty of Collaborative Solutions' best and brightest consultants to join hundreds of our peers in the Workday ecosystem, learn from and educate one another, and get a sneak peek at what's coming in future Workday releases. This annual event is unique to Workday; while other HRM providers hold internal and external conferences, Workday may be the only company to gather its partners together in this way.
"This is Gonna Be a Great Week"
You might say that this was the tagline for many of our consultants as they made their way to Las Vegas, checked into their hotels, and joined hundreds of their peers for the opening session. The energy and excitement of Workday Altitude is contagious, and one consultant described it as "a big family reunion," as attendees got to visit with fellow Collabies from across the globe, as well as friends from other companies in the ecosystem.
Leading the Way
At Collaborative Solutions, we pride ourselves on being forward thinking and innovative thought leaders. With a dozen Collabies chosen by Workday to give presentations, as well as several others who were asked to participate on Workday panels, we were one of the most visible partners at Altitude! Below are the topics that Collaborative Solutions presented. Keep your eye on the blog because many of our presenters are going to share their topics right here in future posts!
Collaborative Solutions Presentations
Making Your Core Compensation Count: Advanced Reporting Options
Branding and Buzz: Working Workday into Corporate Culture
So Now I'm the Test Lead
Deploying Workday Projects, Grants and Time Tracking: Lessons Learned and Best Practices
Retro Processing for Payroll, Benefits and Time Tracking
Calming the Fears of Payroll GL and Links with Finance
Panels
"Projects, Projects, and Projects"
"Workday Payments"
"Mastering Workday Procurement"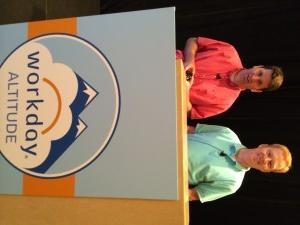 What We Learned
In addition to our own presentations, we attended many others led by both peers in the ecosystem and by Workday. While there were a wide range of presentations on topics from "Deep Dive into Recruitment" to "Financials, Analytics and Reporting: Mobile," several common themes arose, including the importance of communication and Change Management, developing cross-functional knowledge, and a push for customer self-sufficiency. Of course there was also a significant focus on newer functionality such as Recruiting (did you see our recent blog on the topic?) and Big Data.
There were too many great presentations to list them all, but it's fair to say that the hands-down "winner" of all presentations was given by Workday's VP Mobile Apps and Innovation Joe Korngiebel. If there were Altitude superlatives for "Most Energetic," "Most Quotable," and "Most Hashtag-able," Joe would win them all! He literally had the crowd on its feet and chanting during his presentation on Workday's newest mobile features! Korngiebel's quotables included:
"Mobile is our future"
"We were in the cloud before it was called the cloud"
"It all comes down to passion"
6th Annual Collabie Awards
During our time in Las Vegas, we took the chance to gather for a celebratory dinner and announce the winners of our 6th annual Collabie Awards! We created these awards to honor and celebrate our highest-achieving Collabies, and they include such categories as the "Miyagi," the "Rising Star," and the "Hero" The awards dinner provided a great opportunity for team building and fun!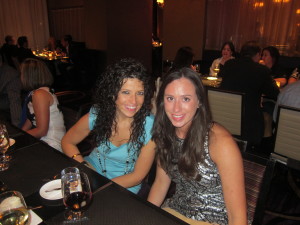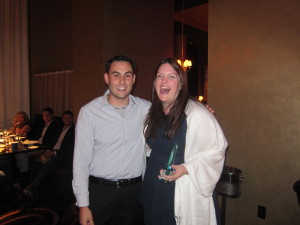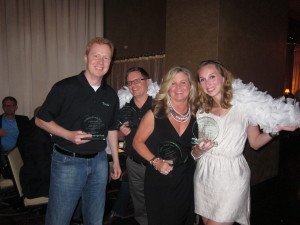 Check out our Facebook and Twitter pages for more great photos from Altitude.
When's the Next Workday Altitude?
All told, our experience at Workday Altitude was a great one! We learned a lot and it was also a great team-building event for Collaborative Solutions. Is it too early to pack for next year…?