If you are anything like me, you are starting to use your iPad for day-to-day computing needs, leaving behind the cumbersome laptop or PC. Never far from my side, it has become a go-to resource for things like finding an obscure answer to a question via Google, or checking into Facebook, or typing up this blog post.
Back when I was an HR Manager and a "power user" of Workday, having an iPad application with mobile functionality enabled would have made my tasks and to-dos so much easier! The good news is the Workday app and mobile functionality has existed for quite a while; all you have to do is configure your tenant for use! Here are two high level reasons you will love it:
It's beautiful. With its latest upgrade, Workday delivered one of the most beautiful mobile user interfaces of any app that I've seen. Angry Birds might be fun, but Workday 18 for iPad is gorgeous and very user friendly.
It's simple. The user interface design is simple, with a blue background that allows user icons to be the center of attention. The search box is easy to find. Users familiar with the iPad will find the swipe feature a welcomed addition to this app as well.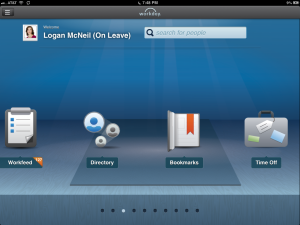 As with any Workday system, the icons that are available are the same as those configured in a user's tenant; if it's not configured, you will not see it on the iPad app.
There are three features that I absolutely love about the iPad app:
The profile view
The work feed
The time off function
The profile view. While it currently looks a bit different from the desktop version of Workday, I've seen some early previews of Workday 19, and you can expect more similarities between the interfaces as Workday 19 moves toward the iPad UI design.
The swipe action is available within the worker profile, so you can seamlessly navigate from section to section. You can view the employee timeline -- a visual look at an employee's worker history -- to see things like jobs held, compensation changes, birthday, etc. The profile view also allows you to navigate the employees Supervisory Organization via the swirl, a fun feature also available in the desktop version, add them to your contacts, or send them an email.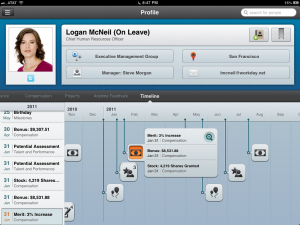 The work feed. The second feature I can't live without --I am certain this goes back to my days of approving many transactions a day -- the work feed. The iPad work feed allows users to quickly go through the tasks, to-do's, and messages in their Workday inbox. This includes the ability to not only review but also approve and comment on available transactions. (!!) It should be noted that not all actions are available, but rest assured future upgrades will have more features available.
What is better than sitting in the airport and being able to pull out your iPad to approve some Workday transactions? Not much! This app allows you to remain productive where it might seem impossible.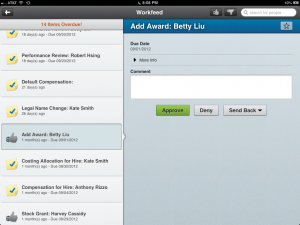 The time off function. The Time Off is just fun to use. A worker is able to see exactly how much time off they have available. They can select multiple days at a time, and once approved, they can view their time easily by looking for the suitcase icon on the calendar, another fun and quirky feature.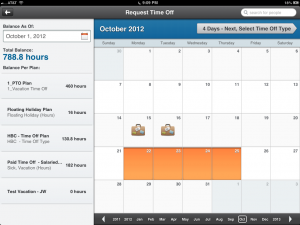 While those things are my personal favorites, there are more features available within the iPad function that should not be overlooked. Additional favorites include the Compensation, feature as well as the Reporting feature, both allow you to drill down into the details with a simple click.
For the on-the-go employee, Workday's iPad application should not be overlooked! It's easy to use, fun to navigate, and a big time saver.