Chicago, Illinois — May 13, 2019 — Collaborative Solutions is honored to be recognized again as a Best Place to Work in Illinois, ranking #5 in the large employer category (500 or more U.S. employees). Collaborative Solutions previously won in the medium employer category in 2017.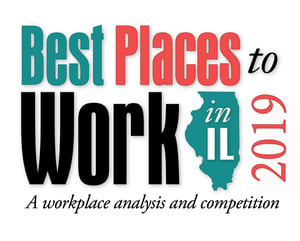 This statewide survey and awards program was designed to identify, recognize, and honor the best places of employment in Illinois, benefiting the state's economy, workforce, and businesses. Best Companies Group managed the overall registration and survey process in Illinois and analyzed the data using their expertise to determine the final rankings. Companies from across the state entered the two-part process to determine the Best Places to Work in Illinois. The first part was an evaluation of each nominated company's workplace policies, practices, and demographics, accounting for 25% of the total score. The second part was an employee survey to measure the employee experience, which counted for 75% of the total score. The combined scores determined the top companies and the final ranking.
"We are thrilled to be recognized as a Best Place to Work in Illinois again this year," said Bob Maller, President and Chief Culture Officer at Collaborative Solutions. "As we have continued to grow, maintaining our special company culture has been our top priority, so it is especially meaningful to be recognized as a Best Place to Work in the large employer category."
Collaborative Solutions has a strong presence in Chicago with local employees focused on executing the needs of customers and making time to connect and bond with one another through in-office parties, happy hours, and volunteering. A prime example of the larger company culture, Chicago employees lead the way in care for one another and creativity in fun experiences, all while accomplishing customer satisfaction. The company was recognized and honored at the Best Places to Work in Illinois awards ceremony coordinated by The Daily Herald Business Ledger on Thursday, May 9.
About Collaborative Solutions
Collaborative Solutions is a leading global Finance and HR Transformation consultancy that leverages world-class cloud solutions to help deliver successful outcomes for its customers. As one of the longest-tenured consulting partners with Workday, Collaborative Solutions has a 98% customer satisfaction rate and has partnered with over 500 customers including global Fortune 500 companies, medium-sized businesses, and education and government institutions.
Collaborative Solutions has deployed in over 125 countries and has experience with organizations ranging from 200 to 200,000 employees. Collaborative Solutions is based in the Washington, D.C., metro area and has offices throughout North America, Europe and Asia-Pacific.