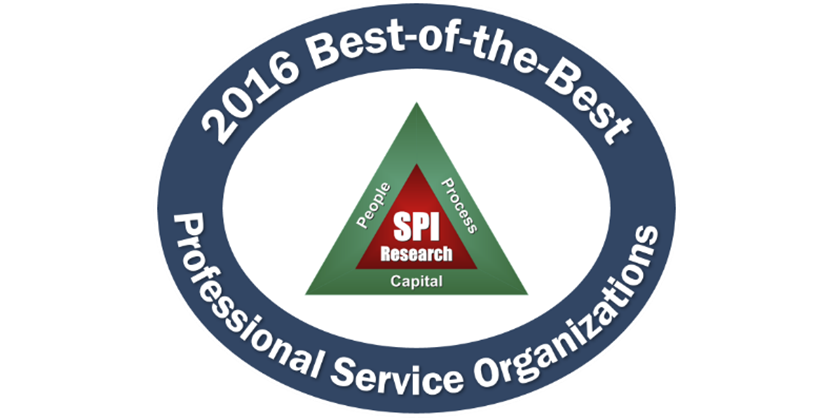 Collaborative outperforms peers, driven by strong culture and Workday applications
RESTON, VA - Mar. 8, 2016 – SPI Research, the leading independent technology services research firm, recently named Collaborative Solutions among the top 20 of its 2016 Best-of-the-Best professional service organizations.
As one of the top 20 firms among the 549 participating organizations, Collaborative Solutions significantly outperformed its peers across five critical service performance dimensions including leadership, client relationships, human capital alignment, service execution, and finance and operations.
Collaborative Solutions' leadership team credits the company's disciplined performance in a high-growth industry to its efficient internal systems and the strength of its employees. From an operations perspective, leveraging Workday Financial Management, Workday Human Capital Management (HCM), and recently standardizing on Workday Professional Services Automation (PSA), has increased productivity, visibility, and transparency across the organization. This in turn has allowed Collaborative Solutions to operate efficiently in a fast-paced environment. More importantly, Collaborative's unique and award-winning culture allows the company to attract and retain top talent, strengthening the company's ability to consistently delight its customers.
Bob Maller, President and Chief Culture Officer for Collaborative, said, "An award-winning culture fueled by phenomenal employees and coupled with a focus on exceptional customer outcomes has been paramount to Collaborative's success. This benchmark validates Collaborative's growing leadership position in the industry, and we are extremely proud to be recognized as a Best-of-the-Best Professional Services Organization by Service Performance Insight.""
Carroll Ross, Chief Executive Officer for Collaborative Solutions, said, "We are thrilled to be recognized among the best in our industry. This achievement is particularly exciting and demonstrates Collaborative's commitment to excellence and our pride in delivering outstanding results for our customers."
Jeanne Urich, Managing Director for SPI, said, "Congratulations to Collaborative Solutions for achieving the highest level of recognition in the Professional Services industry. Collaborative Solutions exhibits everything we have come to expect from a Best-of-the-Best firm – high growth, wildly satisfied clients and attention to their own continual process improvement. We were particularly impressed by Collaborative's award winning culture – as a leading finance and human resource transformation consultancy it is great to see that they practice what they preach."
SPI Research's annual benchmark draw on a database of over 2,000 Professional Services organizations to provide in-depth analysis of their metrics and performance. The 2016 PS Maturity™ Benchmark report is available for purchase via SPI Research.
The annual benchmark from SPI Research draws on a database of over 2,000 PS organizations to provide in-depth analysis of PS metrics and performance. For the 2016 report, 549 companies representing more than 350,000 consultants provided input. The complete 2016 PS Maturity™ Benchmark report is now available for purchase.
About Collaborative Solutions
Collaborative Solutions is a leading global Finance and HR Transformation consultancy that leverages world-class cloud solutions to help deliver successful outcomes for its customers. As one of the longest-tenured consulting partners with Workday, Collaborative Solutions has executed Workday Financial Management, HCM, and Payroll deployments for global Fortune 500 companies, medium-sized businesses, and education and government institutions. Collaborative Solutions has deployed in over 110 countries and has experience with organizations ranging from 200 to 200,000 employees. Collaborative & You: Better Together.
Collaborative Solutions is based in the Washington, D.C., metro area with offices in Pleasanton, CA; Chicago, IL; Atlanta, GA; Tampa, FL; New York City, NY; Toronto, Ontario and Dublin, Ireland. For more information, visit www.collaborativesolutions.com.