Throughout our software deployments, we've seen many organizations struggle to focus on long-term needs and make decisions quickly due to a lack of analytical insights and key performance indicators. Yet, at the same time, the need for on-demand information increases steadily as organizations are feeling the growing pressure to stay agile and keep pace with the industry. Thankfully, software-as-a-service models enable organizations to leverage their data and make organizational decisions in real-time.
Advanced Report Dashboards and Analytics for Workday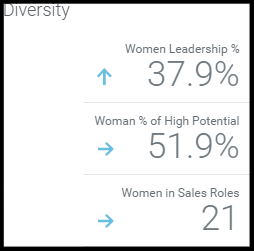 Workday provides a channel for not only gathering data, but also presenting it back to users through dashboards. Data returned on-demand through dashboards empowers end-users to be proactive with analysis. By providing data directly to end-users in a digestible fashion, you'll no longer spend time compiling data. Additionally, you'll be able to view these dashboards through different platforms including personal computers, cellular phones, and tablets. The availability of real-time information regardless of location has quickly become a top requirement for reporting, and our Advanced Report Dashboards and Analytics deliver.
With Advanced Report Dashboards and Analytics, you'll:
Enable a deep, comprehensive analysis of your organization in real-time,
Increase leadership adoption of Workday to make better organizational decisions,
Give more insight into user activity and understand what resonates with users, and
Solve complex report needs for Workday Financial Management, Workday Human Capital Management, and Workday System Administration.
The descriptive analytics included in our dashboards provide you with an understanding of how your business operates today, through both predictive and prescriptive methods. A single source of information is a powerful tool for your decision makers. For example, the graph below shows a simple attrition report on a termination dashboard.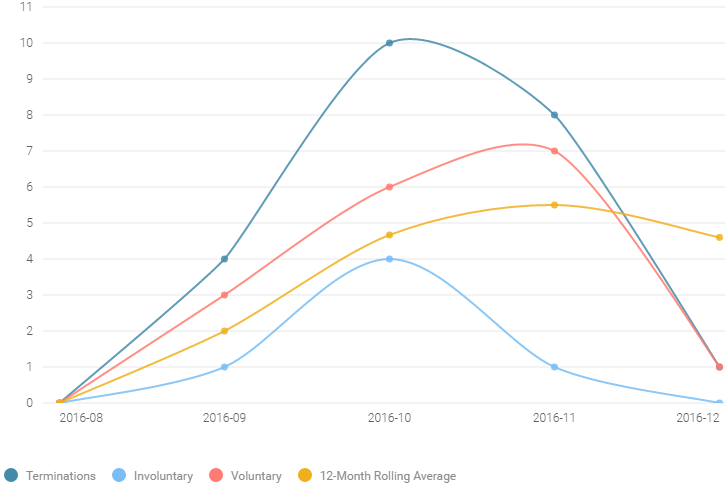 The chart details high-level termination specifics over five months. These statistics can help an organization understand the months of high terminations and provide discussion on why specific events occur. On a more specific level, this chart shows a sharp increase of terminations in September. You can see that this increase aligns with the expiration of annual employee contracts and is predictive every year. With this data, an organization can look at the attrition report over multiple years and see when heavy hiring periods may occur due to contracts ending and potentially restarting.
Why Not Develop Dashboards?
If the information is powerful and valuable, why aren't customers using this functionality? There are two main reasons:
The extensive amount of time necessary to develop reports, and
Knowledge to develop and translate key metrics in the software
These reasons for customers' void in dashboard development are not necessarily synonymous. Employees within the organization may have the technical knowledge, but the cost for resources to develop reports may not be in line with a perceived return on investment. Other organizations could be stuck in a cycle where they want to improve, but do not have the available resources to do so and maintain old processes because they still work.
At Collaborative Solutions, we understand the importance of providing valuable information to your decision-makers. As your system continues to grow and accumulate data, reporting becomes critical to both understand how your business is currently operating and proactively plan for the future. With Collaborative Solutions, you can:
Use pre-built advanced report dashboards and analytics to provide decision-makers with key information on their organization. Our dashboards are geared toward common requirements throughout the entire suite.
Use our subscription service to maintain reports and deliver supplementary reports, in addition to our core pre-built dashboards. We also continuously develop new analytics to provide actionable insights for your organization.
The process of creating and maintaining dashboards is often a difficult process to undertake. With our preconfigured dashboards, the process is simplified and you quickly receive the results you need.
Listen to our webinar on Advanced Report Dashboards and Analytics to learn more.