Organizations move to new technology platforms to standardize processes, gain efficiencies, and reduce manual work. They also revise policies and procedures to reflect changes driven by new technologies. To ensure success, savvy companies leverage a robust change management plan to support their workforce as they adopt new technologies and processes.
Under the best of circumstances, change management efforts can be challenging. Change management becomes more challenging for organizations that are culturally disparate, have business units that operate independently, or have no need or desire to harmonize practices and processes.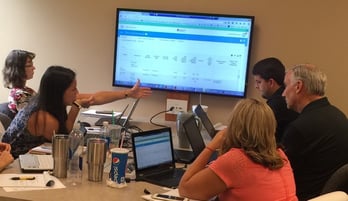 These challenges can be mitigated by strong executive sponsorship and empowering business owners to make decisions. The foundation to properly execute any transformation is a strong methodology. Collaborative Solutions' CynergyTM methodology is a fully integrated approach that not only structures design, build, and test activities, but addresses how to prepare, manage, and reinforce the new behaviors to ensure that the benefits of the new technology are understood and utilized. Moreover, our Organizational Change and Training practitioners receive the same training and certification as our functional consultants.
Central to Collaborative Solutions' change management approach is understanding what the challenge is, who the impacted stakeholders are, and what their tolerance for change is. By employing a change champion network and an active communications plan, Collaborative can help you explain the reasons for change to your diverse populations and help your stakeholders understand their relationship to the new processes and technology.
The following case studies illustrate how Collaborative Solutions helped large M&A and disparate organizations embrace a new technology, harmonize processes, manage different processes, and achieve their strategic objectives. Each customer chose to navigate the change journey in a slightly different way, and reached their destination successfully by partnering with Collaborative.
Assess and Decide
Background: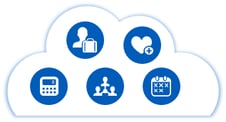 Global technology manufacturing company with 55,000 employees in 60 countries; cell phone hardware and software company with 22,000 employees in 16 countries
Challenge:
In 2014, a large hardware manufacturing company acquired a smaller hardware and software company. Both companies were using the same technology platform for their HR and performance management activities. The larger organization had an employee/manager self-service approach, while the smaller entity's managers made requests that were processed by an HR service delivery team.
Prior to designing the new system and defining the requirements, Collaborative Solutions conducted working sessions to explore the organizations' operational areas, business processes, and how business functions could be harmonized. Ultimately, the processes of the larger organization were determined to be more efficient and would enable the company to execute the technology solution more quickly.
Result:
The organizational change and training workstreams were formed early in the project to identify worker impacts, and they responded accordingly with well-timed communications and training events geared towards managers and employees in both organizations. Additionally, organizational structures were addressed in advance, along with modifications to non-system roles and responsibilities, titles, and compensation levels. Subject matter experts from both organizations were involved in these discussions from the start. This approach defined how decisions would be made and communicated, thus eliminating downstream surprises.
Separate and Unequal
Background: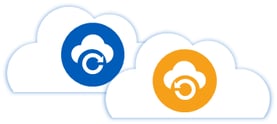 Global media company with 18,000 employees; legal and government affairs subsidiary with 1,000 employees; 74 counties in over 192 physical locations
Challenge:
A large financial software, data, and media company needed to implement a new HR, compensation, benefits, absence, performance management, and recruiting solution, while preserving many peripheral systems to be integrated to the new platform. The organization wanted to move from highly-customized ERP systems and home-grown applications to a software-as-a-service model that would support end-to-end HR processing for its diverse geographies and business units.
This company had two separate business entities, one of which was unionized, which required that information from one entity not be accessible by the other. The design of the system required that all aspects of the new application be completely separated. This required Collaborative Solutions to develop two sets of business process designs, conduct two independent testing phases, as well as duplicate all training materials and communications to be tailored for each distinct end user community.
To sustain the implementation for both entities, Collaborative Solutions' Organizational Change and Training team was responsible for documenting change impacts for both organizations, a task that drove the communications and training strategies. Surveys were also conducted to gauge stakeholder receptivity. Collaborative's training team defined a training needs analysis and jointly created a curriculum plan with the business area leads to prepare their respective workforces.
Collaborative met the client's unique requirements and cultural differences by flexing the project size to accommodate the implementation as a separate but parallel exercise. Moving from one project phase to the next required agreement that both entities were ready to advance from design to testing, for example, and ultimately to the pre-production stage at the same time. The larger entity ultimately determined the project cadence and many of the organization-wide design decisions.
Result:
Both organizations successfully went live with the new system, and due to Collaborative's strong project management and seasoned functional leads, the HR and performance management applications were fully operational, including inbound and outbound integrations to external systems. The new dashboards and trending information were available to management along with many analytical reports created by Collaborative's reporting team. The complexity of maintaining two entities in the system will be a challenge for maintenance, but the trade-off is dynamic access to real-time information that will support the organization's decision-making.
Accommodate and Simplify (Later)
Background: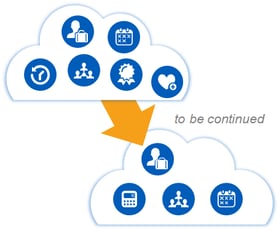 International health agency headquartered in the US with 28 member organizations located in Central and South America; employees: 1,500
Challenge:
In 2016, the agency decided to replace aging, disparate HR and financials systems with an integrated, cloud solution with mobile access. During phase one of the project, Collaborative Solutions worked with the client to validate requirements. The impacted communities involved the human resources department and various departments located in the US, as well as offices in non-English-speaking countries and regional centers. A year later during phase two, the scope focused on financials, grants management, and procurement.
To support the related process changes, a change network was formed consisting of department heads and representatives from each of the country offices. Collaborative led design sessions and production functionality reviews to guide the client to understand the advantages of adopting the best practices inherent in the application. Many of the agency's HR business processes were standardized. It was not until phase two that the complexities of financial management and procurement became apparent.
Each country office was considered a distinct business entity with discreet financial management responsibilities. The agency requested numerous security roles and complex condition rules to enable the appropriate reviews and approvals. Collaborative created 30 custom security groups for each of the 28 countries, which were further compounded by the number of roles assigned to individuals in each organization. When the system went live, the number of unique roles had surpassed 300.
Collaborative's training team assisted with drafting communications to these diverse audiences and later trained key members of the change network using real-world examples that were unique to their organizations. Collaborative also supported the training deployment with online training videos, webinars, and workshops at headquarters and at some of the country offices.
Result:
Although the harmonization of the HR business processes simplified the work, many of the changes to the financials business became burdensome. After a year in production, an agency-wide business process optimization effort is being considered. Some of the country-specific security roles have been recognized as redundant. With each new update, testing new functionality can be an intimidating task.
Nonetheless, Collaborative helped the agency realize many improvements in how the organization manages its obligations to its member states. Throughout the project, an active change management program tapped into the knowledge of business owners to design and own the system. Collaborative's robust training program gave the various stakeholders the opportunity to become comfortable with the new system and build confidence and capability.

Determining the changes that need to be made and coming to an agreement takes time and trust. Collaborative Solutions can help your organization determine the approach that is suited to your cultural and organizational temperament. We guide our customers to make decisions that will support their overall business objectives. Our projects are delivered on-time and on-budget when they are driven by strong client leadership, staffed with business area owners who are empowered to make decisions, and supported by our engaging and versatile change management program. How you navigate the journey—with a harmonized approach, a separate, multi dimensional strategy, or a combination of the two—is ultimately up to you. Having a seasoned partner like Collaborative Solutions help you chart the course will make getting to your destination much easier.
To find out more, view our services webpage: