Organizations operating within the financial services industry today are tasked with meeting and exceeding increasing employee expectations while also boosting efficiency and streamlining processes using new technology. This includes deciding what responsibilities and work should be done by employees, and what tasks should be automated to improve efficiency and reduce busy-work.
Having the right technology to efficiently complete processes, increase the accessibility of important metrics, and decrease barriers to communication is the first step in becoming digitally savvy and gaining a competitive advantage over other organizations in the industry.
The financial services industry must meet changing employee expectations by providing teams with meaningful work, automating tedious or time-consuming tasks, facilitating easier cross-functional collaboration, and offering opportunities for growth and development.
Keeping employees engaged and satisfied is critical to overall profitability and success companywide. In fact, according to a Gallup meta-analysis, organizations with a highly engaged workforce showed 21 percent higher levels of profitability. The modern workforce expects companies to reflect developments in technology that make their workload easier and that aligns with their desired work-life balance.
Improving the Digital Employee Experience
There are many ways that transforming the digital employee experience in financial services can make an impact, but it is certain that financial services digital transformation and the adoption of a cloud-based platform are meaningful ways to look toward the future of work. Here are some elements of modernizing processes that may boost employee satisfaction, retention, and more.
Flexibility: It is becoming increasingly important to employees to have flexibility in where and when they can complete their work, and the financial services industry is no different. The pandemic demonstrated that employees are capable of performing complex tasks from home, but it also confirmed the need for increased automation of other processes. Providing employees with intuitive technology that facilitates the opportunity for hybrid work improves their overall experience, boosts productivity, and offers increased reliability for clients.
Automation: For financial service organizations, tools such as Automation Anywhere with Robotic Process Automation (RPA) and Artificial Intelligence (AI) increases operational efficiency, reduces costs, and minimizes the number of repetitive tasks that employees must carry out. Automation improves accuracy, better detects fraud, simplifies payroll complexity, and strengthens data privacy. The modern workforce doesn't want to be bogged down by repetitive manual processes that could easily be automated with the right technology. Automation Anywhere fosters innovation by allowing employees to focus on value-added work.
Improved Cross-Functional Collaboration: Streamlining processes through the adoption of a cloud-based platform such as Workday allows organizations to be more connected. Data is no longer siloed and disconnected amongst departments and teams, rather it is accessible from anywhere, at any time.
The modern workforce wants to be more efficient with improved workflow and data-driven insights, and they want information to be unified into one single source of truth. Cloud technology can also provide real-time dashboards and analytics in an easy-to-understand way that helps leadership make more timely and informed decisions to meet changing industry conditions.
Hiring and Onboarding: The changing expectations of employees in the industry presents a strong opportunity for financial services digital transformation, and for an industry that has yet to fully digitize from the inside out, this will impact talent acquisition, onboarding, and retention rates.
Talent experience platforms such as Phenom ensure that organizations find best-fit candidates, equip talent with training and best practices to succeed, and offer growth opportunities for employees. Phenom connects people, data, and interactions to help potential candidates find organizations faster, recruiters become more productive, managers build more cohesive teams, and employees leverage growth opportunities.
Empowering your Modern Workforce with Technology
The adoption of new technology is only accelerating, and as employees must evolve in the digital skills they offer, organizations should too. As a result, for any company that wants to stay competitive in the industry, it is important to provide modern technology that will help employees become more satisfied in their day-to-day work, as well as the flexibility to complete that work inside or outside the traditional office setting. An example of a financial services and insurance organization that took the right steps to modernize technology and empower their people is Stewart Title. Check out their success story below.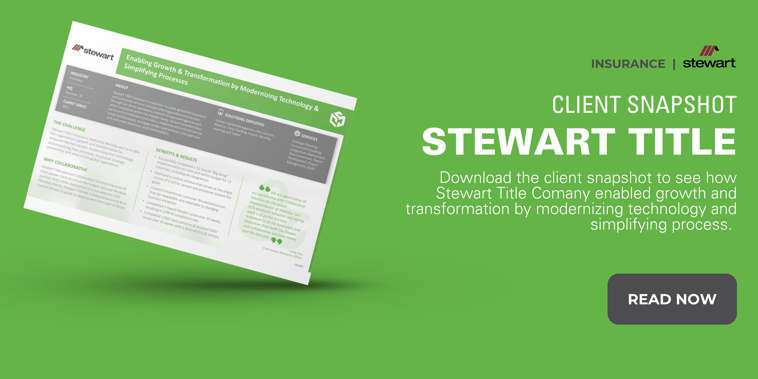 Industry disruption is to be expected in financial services, as the environment is continuously evolving along with client demands. Having the right people on your team is important and keeping them satisfied through a modern digital employee experience is even more crucial. Employee satisfaction affects every aspect of an organization, from savings and productivity to talent retention and recruiting, so it helps to choose an implementation partner who is experienced and can identify unique organizational needs.
To learn more about how Collaborative Solutions can help your organization, check out our Financial Services and Insurance page.
Popular Articles About Technology in Financial Services
Intelligent Automation in Financial Services: What You Need to Know
The Future of Financial Services Is Adaptability
Creating Long-Term Benefits from a Finance Transformation Project