As a valued faculty member at your higher education institution, you're not immune to the challenges and complexities that face your institution. Universities across the country are facing internal and external pressures to leave legacy systems behind and embrace modern technology, but that technology won't be fully embraced by end-users without one key activity.
What's the secret to higher education technology deployments? A powerful change management, communication, and training strategy.
Change management ensures new technologies are not only configured and implemented, but also embraced by employees and used without disruption. A strong change management and training strategy specifically tailored to address the needs of higher education institutions consists of thorough project branding, communications, training, and user adoption and sustainment. Let's explore these concepts in more detail.
Project Branding
Before you start your technology deployment, you should create an identity for internal communications and connect messaging throughout the project to cultivate employee recognition and a feeling of investment by key stakeholders. Your project branding should include a distinct project name, logo, and easy-to-remember tagline for users to rally around.
Collaborative has worked with many customers who choose a three-tier project branding approach that includes a separate tagline during the implementation, at go-live, and six months after implementation. Here's how one of our customers branded their Workday deployment:

After you decide project branding, you should explore communications plans early.
Strategic Communications
Thorough communication is an easily-overlooked, but critical part of deployments. Employees will likely not be excited or ready to use the software unless they fully understand why, when, and how the change will happen. We've found that workplace communication is most effective when it's face-to-face, delivered by the President/CEO or direct manager, and consists of the most important messages. When face-to-face communication isn't possible, the next best practice is to develop a strategic communications plan for regular, timely communications around the project.
Below is sample of valued customer USC's strategic communication: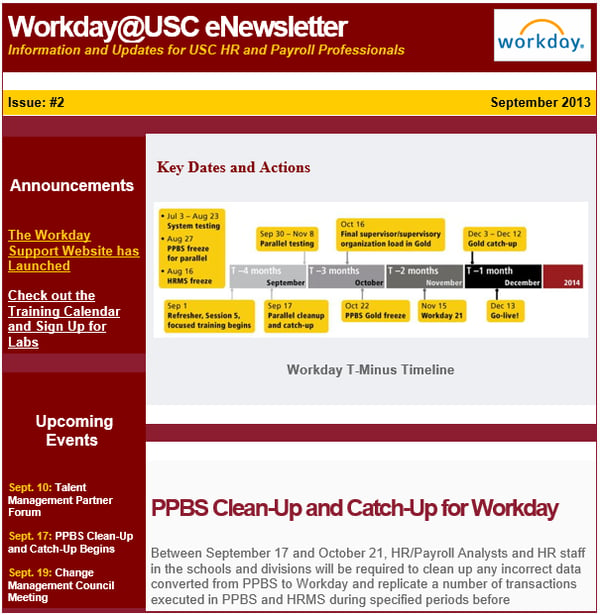 You can see our customer included only the most important announcements and upcoming events for users.
Training
We recommend you establish a plan for training all staff and faculty after a roadmap for communication and project branding has been created. Many training considerations are specific to higher education challenges and should be addressed prior to the start of the project. Some of these include:
Do different campuses or schools have different processes and technologies in place?
Which security roles will participate in user experience testing, and which require additional instructor-led training?
Are staff and faculty transactions done by the same group/training audience?
Will we prepare fake data for activities, or use real data in the test environment?
Who are credible trainers to lead this effort? Should we include additional resources to answer policy questions (e.g., Provost representative)?
Collaborative recommends mapping out what the training agenda will look like well before the deployment begins, then get end-users in the system as much as possible. Other universities have found that their employees learn the fastest when required to use the technology during training, rather than watching a demo or presentation. Below is an example of an academic HR partner's instructor-led training agenda: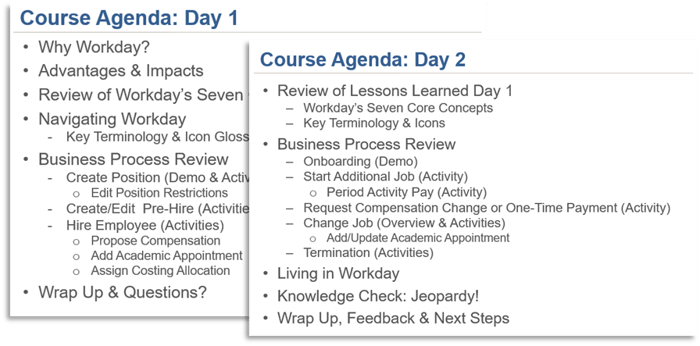 The final component of a strong organizational change and training (OC&T) strategy tailored to the needs of higher education will consist of a thorough go-live strategy. This should maintain not only the technology as it evolves, but also the faculty and student user adoption as they change.
End-User Adoption and Sustainment
Your focus should be on end-users before, during, and after the deployment. We advise the use of in-system guided tours, help text, refresher or "200-level" training courses, and resource centers, like the one our customer created below, with information such as an icon glossary, terminology crosswords, FAQs, quick reference guides, and job aids.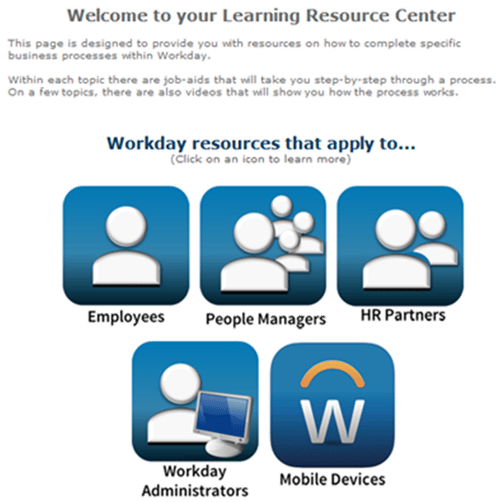 Some tricks and tips for long-term sustainment include creating opportunities for knowledge-sharing and best practices, distributing newsletters with updates, planning for bi-annual system updates, establishing processes for enhancements, monitoring ticketing, and most of all, celebrating successes! A technology-based transformation is a challenging undertaking for any higher education institution, so it's key to celebrate all the hard work that went into your achievement.
For more information on how to manage change for higher education, check out the article "Managing Change within IT Transformation," written by The Tambellini Group, a leading market research and advisory firm for higher education executives, solution providers, strategists, and investment firms.