With more than a dozen workplace awards to our name, it's no secret that Collaborative Solutions is a great place to work. Each year, we're honored to be recognized by such publications and organizations as the Washington Business Journal, Consulting Magazine, Bay Area News Group, Fortune Magazine, and Great Place to Work®, for honors at both the regional and company-wide level. But what is it that makes Collaborative Solutions so great?

So, not to toot our own horn here, but we think we're pretty fabulous! Here are the top five reasons Collaborative Solutions should be on your list.
1. Opportunity & Growth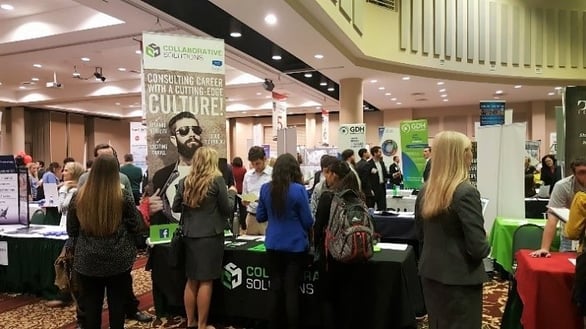 People Services hires and trains the best and brightest.
At Collaborative Solutions, your potential is limitless! We offer training on the hottest HR and finance systems, the opportunity to earn coveted Workday certifications, the opportunity to cross-train and strengthen your skill-set in the field, and the chance to learn alongside the best and the brightest in the Workday ecosystem. Our consultants have 30% more years of Workday experience than the ecosystem average, so they have more than enough knowledge to share. While Collaborative has grown significantly, we are strong believers of promoting from within, which provides our employees with tremendous career development options.
2. Communication & Collaboration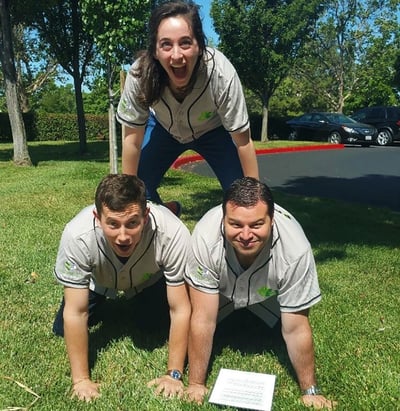 Our analysts working on teamwork and communication skills during their 6-week training!
Maintaining an open and truly collaborative environment is central to our success, particularly when our Workday and Tidemark consultants are geographically spread. We encourage open communication through a variety of channels, including regular town halls led by our executive team, company-wide surveys, Collaborative's active intranet platform, fun team outings, cross-departmental meetings, happy hours, and regional parties. Collabies throughout the organization also have regular opportunities to work with others in the industry through participation in the Workday Community and through large ecosystem events such as Workday Altitude and Rising.
3. Benefits
Collaborative is staying on top of the industry trends when it comes to benefits, with:
Medical, dental, and vision insurance
Healthcare savings account
Prescription drug plan
Life insurance and disability insurance plans
Paid company holidays
Wellness challenges
Unlimited PTO days
Fully-stocked kitchens
401(k) plan with a generous company match
Free community service days
Milkstork
Pet insurance
4. Philanthropy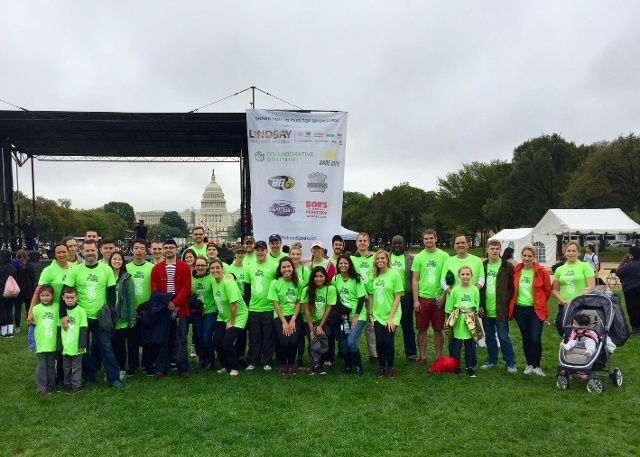 Collabies show their passion for philanthropy at Autism Speaks' "Walk Now for Autism Speaks" annual fundraiser in Washington, D.C.
We are passionate about giving back, and as a company we lead by example. Collaborative's key philanthropic cause is Autism Speaks, which funds research, knowledge transfer, legislative support, and treatment for those with Autism. This year we are the first ever National Walk Team for Autism Speaks. We are excited to be participating in regional walks in 6 of our office locations including, California, Illinois, Florida, Georgia, Washington D.C., and New York. As a National Walk Team, Collaborative Solutions has pledged to raise $50,000 to help support this great cause. We offer our employees paid time off for community service activities because we value the importance of civic engagement and the impact that each of us has on our communities. So, get out there and give back!
5. Recognition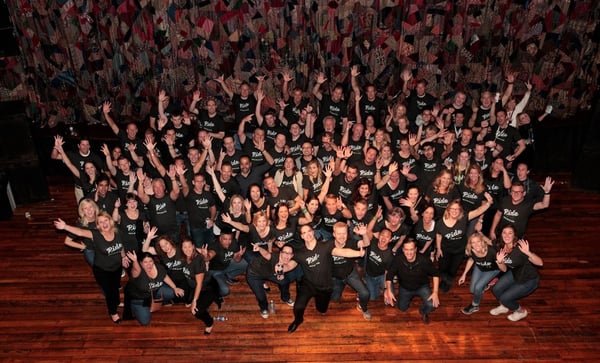 Collabies celebrate their hard work at our Workday Rising Customer Appreciation Party
Collaborative could not achieve these awards without our spectacular team and support system. Whether it's a shout-out on our internal social media "Chatter" or a nomination for a "Collabie" award, we make sure individual Collabies and teams alike receive recognition throughout the year.
With over 130 Glassdoor reviews, we hear again and again how our truly collaborative culture makes Collaborative Solutions a great place to work, and we couldn't agree more. But don't take our word for it; watch the video below to hear directly from our employees.
Do you want to join Team Collabie? Click below to take a look at our current job openings.