Written by Team Collabie
Aug 17, 2015
Each year, Workday holds a multi-day conference, Altitude, for all of its partners in the ecosystem to get together and see what's coming up next on the horizon for Workday. Collabies from across North America gathered for welcome receptions, breakout sessions to learn the newest Workday functionality, presentations from Workday and many of our own consultants, and a celebratory dinner and awards show!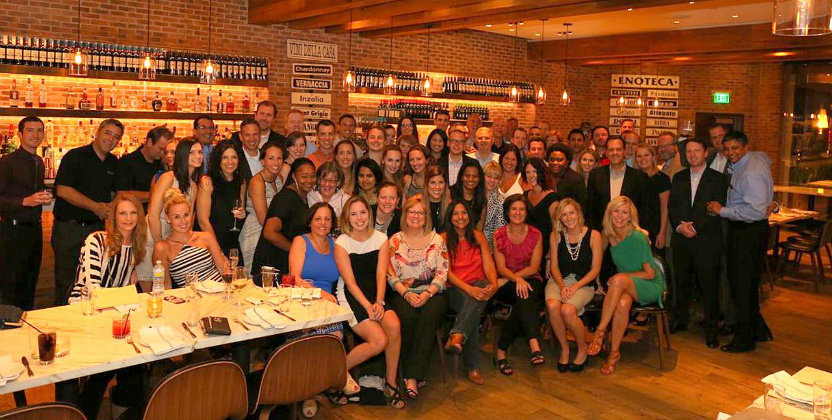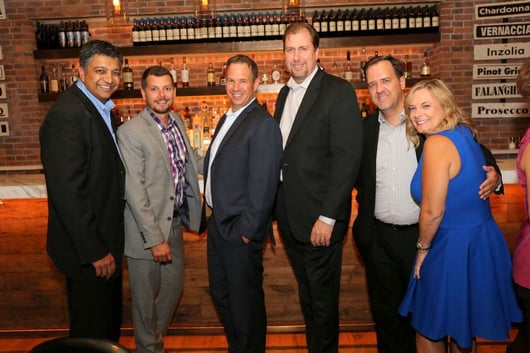 Collaborative's leadership team cleans up nice!
Our annual awards show, The Collabies, was created seven years ago to honor our highest-performing Collabies. This year, more than 40 Collabies were recognized with awards and acknowledgement for all of their hard work. The event was held at D.O.C.G. in the Cosmopolitan in Las Vegas, and included dinner, drinks, and dessert. Congratulations to all winners!
MVP
Although all consultants work tirelessly to please customers, this "Consultant of the Year" award goes to the person in each area of expertise who sets the bar for performance, is a consulting guru, and consistently delights our customers. These people deliver several 'wow' moments throughout the year, and solve problems through Workday know-how and excellent communication skills.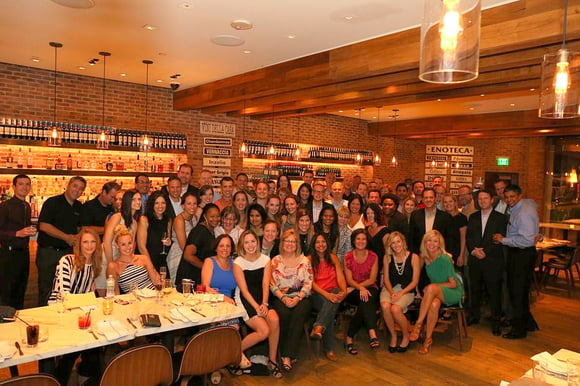 We had over 70 attendees come out to celebrate our annual awards celebration, The Collabies!
Miyagi Award
Just like Mr. Miyagi was a well-respected mentor in the Karate Kid movies, this award goes to our "Mentors of the Year". These individuals are never too busy to help others and will drop everything to aid another Collabie. They have spent countless hours helping new consultants and inspiring better performance in those around them through their leadership and example. They continue to let others shine in the spotlight, which has enabled us to build an even stronger team. It's about time these humble individuals receive a little recognition!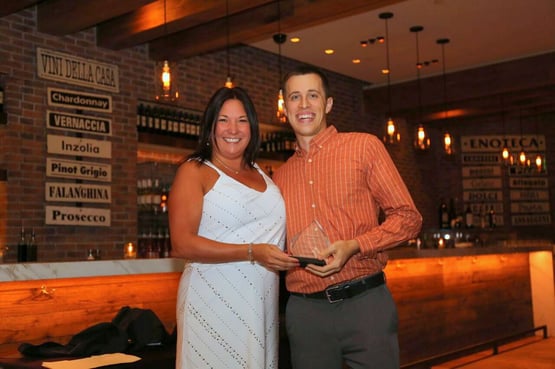 Congrats on your well-deserved awards!
Collaborator Award
Without bright, outgoing individuals working together, Collaborative Solutions would not be nearly as successful or as fun of a place to work. This award goes to the people who most-exemplify the unique Collaborative Solutions culture. They demonstrate a willingness and aptitude to assist others in various organizations and remain optimistic through all situations. When you think of Collaborative Solutions, you think of these people.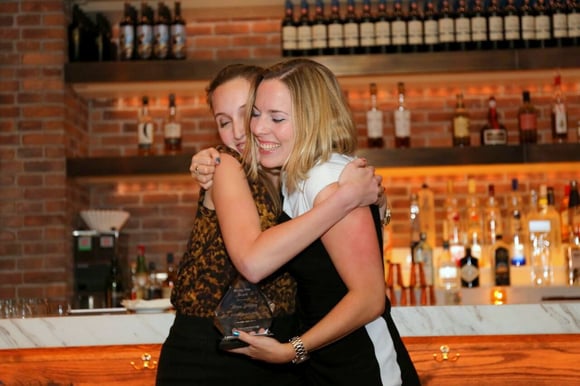 Coworkers congratulate each other at the dinner celebration!
Rising Star Award
The Rising Star Award goes to those who joined Collaborative Solutions after January 1, 2014 and have already shown a tremendous impact. They came up to speed lightning-fast on all tasks and have already delighted our customers. Although they are new to Collaborative Solutions, they have already left their mark and are truly Rising Stars.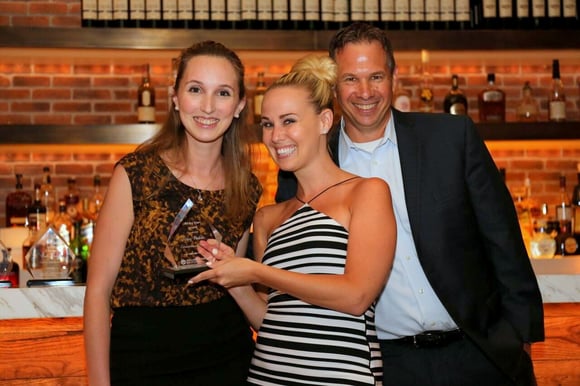 This employee smiles like a true star as she wins a Collabie Award!
Pacesetter Award
This award goes to our "Engagement Managers of the Year". Engagement Managers often head multiple teams at one time, and manage all aspects of implementation from start to finish. These people have led their teams to success, have mentored their team members, and have proven to be communication masters.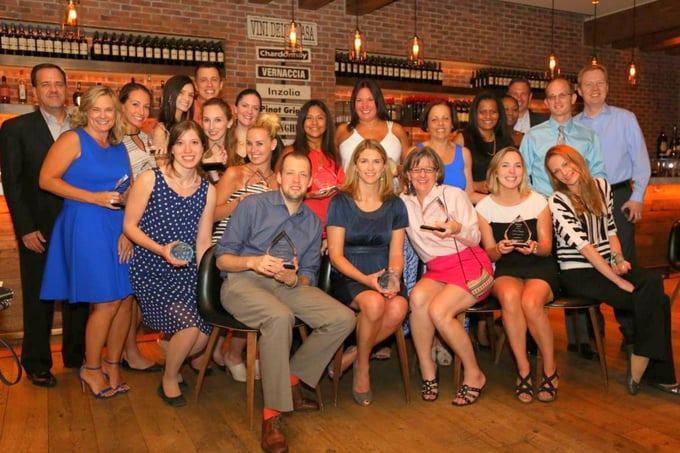 Award winners gather at the well-known Las Vegas wine bar D.O.C.G.
Hero Award
This award goes to individuals who exemplify teamwork, excellence, responsiveness, respect, and reliability. They are truly super heroes who continually make a difference in the lives of Collabies around them. Although they don't have super strength, invisibility, or telepathy powers, they are superheroes within the workplace. They take initiative to solve problems without being prompted and consistently go beyond to help those around them–not because they are asked to, but because it's the right thing to do.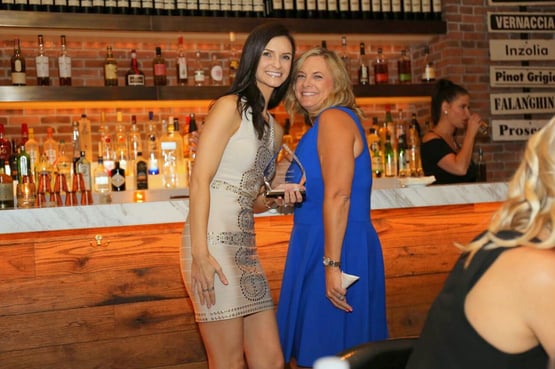 Every workplace needs a couple superheroes- thank you for all that you do!
Top Sales Performer
This individual has had the highest achievement over quota for the year and constantly supports teammates to help them meet their goals. This person is crucial to the Collaborative team, because without a sale first, there can be no happy customer. Congratulations!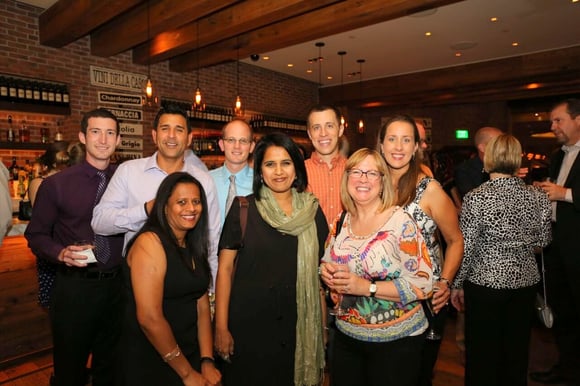 Attendees enjoy great food, wine, and conversation!
Excellence in Sales Support
This person always goes above and beyond during the sales process, and has been instrumental in bringing deals to closure. They represent the three R's of the Sales team: Responsive, Reliable, and Reputable. Thank you for all that you do!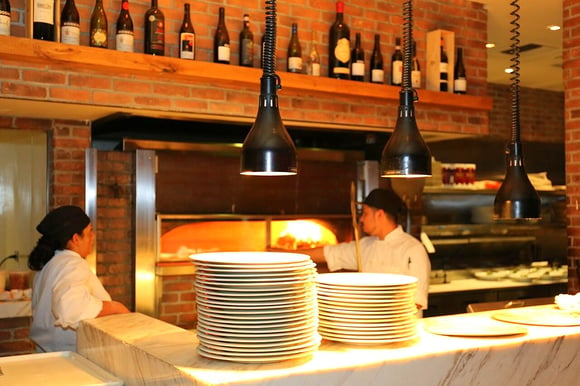 We loved being able to watch the chefs at the D.O.C.G. work their magic in the kitchen!
A-Team
This award goes to the Collaborative Solutions team that has delivered exceptional service to the customer. This team has not only delivered their project on-time and on-budget, but has also ensured that this global customer is able to own the system completely after go-live. Over 25,000 employees' information has been successfully transitioned to one platform, and the company has been able to leverage best practices, automate manual processes, streamline work processes across markets, and reduce HR and IT costs. Most importantly, this stellar team has created a more-than-satisfied Collaborative Solutions client!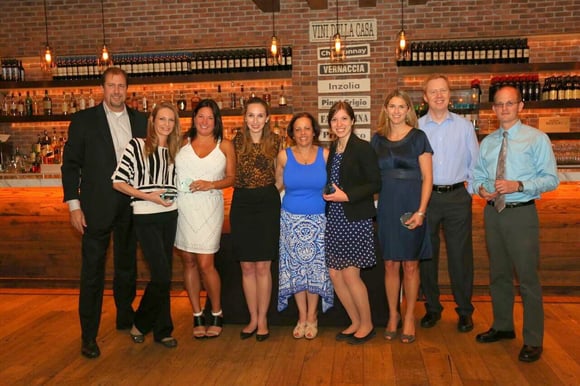 Although each delivery team works hard to gain a happy customer, we're especially proud of those who worked on this project!
Lifetime Achievement
Though it's an honor to be recognized for a high achievement once, to be recognized for high achievements consistently over many years is deserving of a distinctive recognition. This award goes to the person who has excelled year after year at Collaborative Solutions. Only those with at least three years tenure at Collaborative Solutions are eligible for this achievement.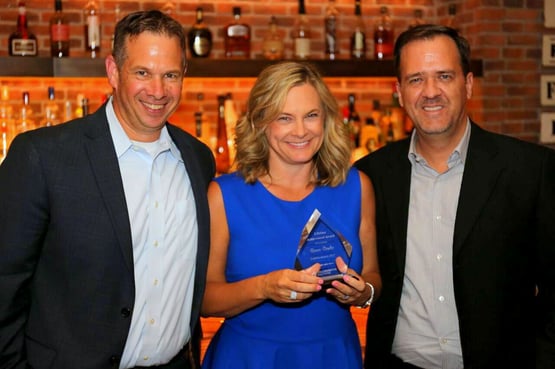 President, VP, and CEO smile from ear to ear as this marks the end of our 7th annual awards show, The Collabies!
The Collabies provided an opportunity to bring everyone together, no matter what part of the country or team. Stay tuned for more Altitude recaps as we explore some of the information Collabies taught in presentations, and don't forget to check in with our social media for more Altitude pictures!