We're less than one week out from Workday Rising 2015! You've read our Rising sneak peek blog, as well as the top 5 things to do and not to do during Rising in Las Vegas: now with only 6 days until the largest industry event, we're bringing you exactly what to expect from us and the Workday crew. The forecast is looking cloudy with a chance of SaaS!

What to expect at the 9th Workday Rising?
Guest Keynote Speaker: Salman Khan, Khan Academy
According to Forbes Magazine, Salman is "the most influential person in education technology". As the founder of Khan Academy, a non-profit educational organization that produces short lectures in the form of Youtube videos, his goal is to provide "a free, world-class education for anyone, anywhere." Salman will share how technology can educate communities across the globe.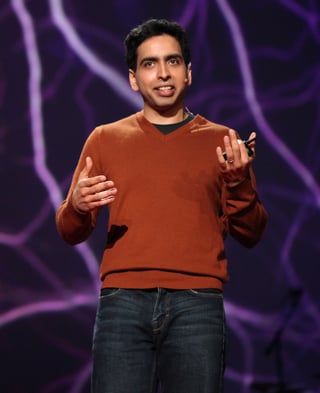 Breakout Sessions
Workday packs a ton of events and networking into their four-day conference! Hear the latest on Workday applications, and get firsthand experience with new features and functionality. Many of Collaborative's customers are presenting during breakout sessions at Rising! Here are some highlights:
Off the Rack: Transforming Enterprise HR with Workday at a National Off-Price Retailer
Burlington Coat Factory | Tuesday 9/29, 1:00 PM
Learn how a popular national retailer transformed its HR business operations with Workday
Networking for Change: Building and Leveraging Global Change Networks to Drive System Adoption
Campbell Soup Company | Tuesday, September 29, 2:15 PM
See how Campbell Soup Company's project team designed, recruited for and deployed nearly 180 employees across a global, multi-tier Change Network
Going Global with Absence and Time Tracking
Ciena
Tuesday, September 29, 3:30 PM
Discover lessons learned from other global roll-outs, and how new initiatives with factory default data and object migration can give your project a head start.
Change Management: It's the Game Changer!
Regions Bank
Tuesday, September 29, 4:45 PM
Hear how change management was a game changer, and learn tips for executing a "change" game plan built on collaboration, flexibility, and fun
Out of the Fog and into the Cloud: Higher Education Transformation Stories
Grand Canyon University, University of Chicago, & University of Southern California
Thursday, October 1, 9:15 AM
Discover three universities' successful HR transformation journey
For more information, view the Breakout Sessions Content Catalog
What to Expect at the Collaborative Solutions Booth?
Each year, Collaborative's booth at the Expo is busy with our expert consultants advising Workday customers and prospects, as well as Collaborative's happy customers engaging with prospects to have open and honest conversations about their deployment. Check out details below!
Giveaways
Lanyards
Scan your badge for a chance to win one of two $250 Michael Kors gift cards
Trivia
This year, we'll have a quick game of Better Together Trivia at our booth to test your knowledge on a variety of famous duos. Get it right and you could win the following prizes!
EOS lip balm
Playing cards
iPhone, Android, and Kindle-compatible on-the-go chargers
Details
Stop by booth 339 during the following times:
Monday, September 28: 5:00pm – 8:00pm
Tuesday, September 29: 11:30am - 2:00pm and 5:30pm – 7:00pm
Wednesday, September 30: 11:30am – 2:00pm
What to Expect at Our Customer Appreciation Party?
Since 2009, our party has consistently grown into a must-attend event during Workday Rising. Last year, we had over 400 guests attend. So far this year, more than 900 people from more than 200 organizations have RSVP'd! The party will include dinner and open bar at the House of Blues, with live music from the Gin Blossoms!
About House of Blues
13 live music concert halls and restaurants in major markets throughout the U.S.
First location in Cambridge closed, but driveway with famous musicians' hands in concrete remains
Las Vegas House of Blues is located in the Mandalay Bay on the Strip, and features concerts, fine dining, and private events like our customer appreciation party
About the Gin Blossoms
American rock band formed in 1987 in Tempe, Arizona
Became famous through the song "Hey Jealousy" on first major album
Additional hits include "Follow You Down" and "Til I Hear it From You"
We hope you're as excited for Rising as we are! If you're attending and haven't been invited to our party, click below!